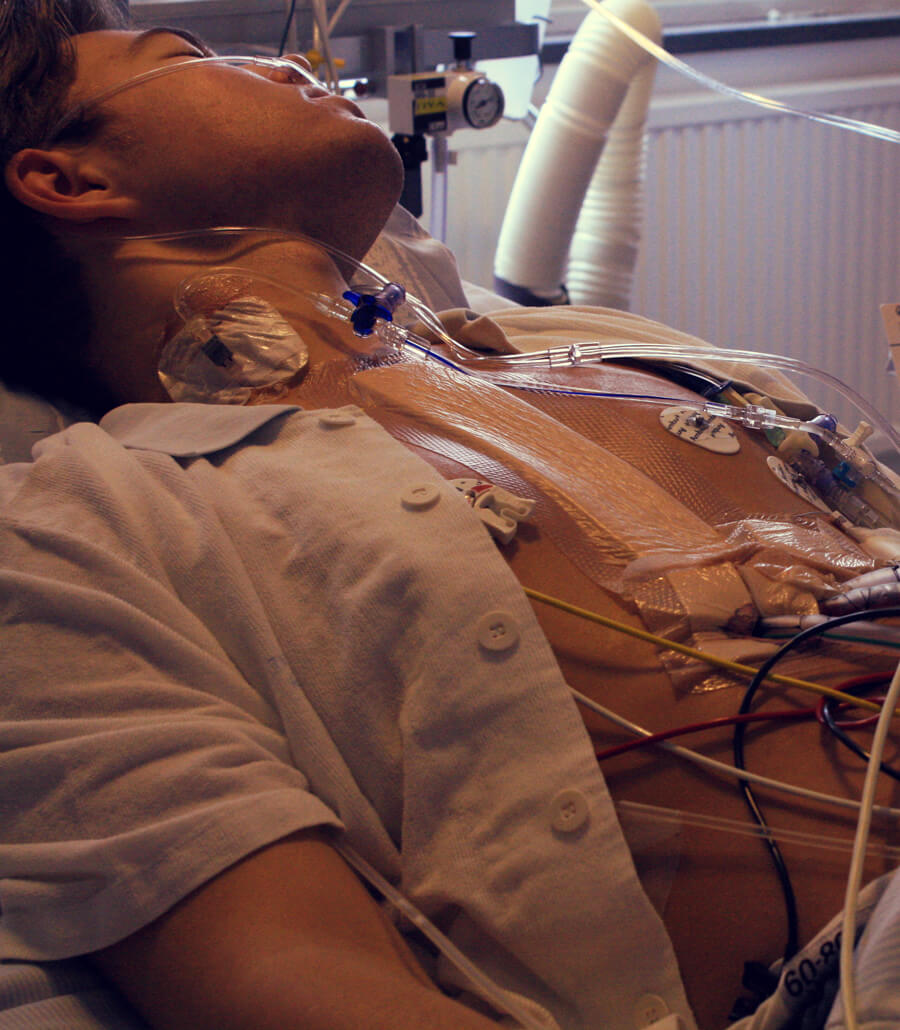 Wow! När man tittar på den här bilden och inser att det bara var en månad sen, så kan man inget annat än att vara tacksam. Trots att saker varit extremt jobbiga på vägen och att det fortfarande går upp och ner kan jag inget annat än att känna lättnad. Det värsta är över! Nu tror jag inte det är allt för lång tid kvar innan denna blogg kan börja förändras och att sjukhusbilderna blir färre och färre. Jag är så glad!
Detta skrev jag i bloggen dagen innan jag opererades:
Att behöva göra den här operationen har ju på ett eller annat sätt fått mitt liv att stanna upp. Jag har fått ställa in allt från resor, jobb, möten, nöjen och modeveckor i städer jag aldrig varit i. Jag har även den senaste veckan inte fått träffa några vänner alls p.g.a smittfaktorn. Dock kan jag i allt detta blicka framåt och jag är mer taggad än någonsin. Jag längtar till den dag då jag är helt återställd. Jag har så mycket inspiration och känner så mycket glädje inför 2013. Detta "borde" vara perioden i mitt liv då jag är som mest förvirrad. Självklart är det mycket som blivit tvärt emot vad jag hade förväntat mig och nu stannar livet upp ännu en gång. Dock kan jag ärligt säga att jag är så lugn, glad och peppad inför framtiden. 
Wow! I can't belive that was me only a month ago. Even if I still feel pain, I'm so thankful to be where I am right now. The worst part is over. I know that this blog will have less of the hosptital picture and more of everything else in life. Yes, belive it or not this will actually be a music/fashion blog soon… I can't wait!
I worte this one day before the surgery:
This should be the time in life when I feel completely lost, but that's not the truth. I feel so safe, happy and excited for the future.
I hope 2013 is the year when I'm finally ready to release the first single from my debut album, I would love to move or work with something new in fashion. Even if my dreams for 2013 wouldn't come true I would feel calm anyway. If that's the case I know there's something else for me. The best is yet to come!
15

Responses to "1 month ago."
:) on

Hannes on

!!! on

Emelie on

Nora on

Anonym on

Emelie on

Emelie on

M. on

GRATTIS PÅ 20 ÅRSDAGEN!! on

MB on

Déjà Monét on

Michelle on

Linnea on

Laszlo on